Meditation can transform your health, wealth — and shift your perspective.
S.N. Goenka once said, "Burying the negativity in the unconscious will not eradicate it, and allowing it to manifest as unwholesome physical or vocal actions will only create more problems. But if you just observe, then the defilement passes away and you are free of it."
Meditation offers tools for navigating through changes and a deeper understanding of our mental cravings and aversions. It gives us the freedom to operate from a place of equanimity by reframing the way we look at things.
Except it can be hard to integrate a practice of meditation into our busy, productivity-oriented lives.
We learn best by fully immersing into something without distraction.
Why I Chose Vipassana
Vipassana, an age-old silent meditation technique, helps those willing to dive right in.
I started with my own reasoning: I was turning 30, a considerable marker of time, which made me look at the trajectory of changes taking place in my life.
I considered the return value in signing up: I sought a first-hand experience of meditation as taught in Indian tradition and rediscovered by Buddha.
So I took the plunge and after being waitlisted for several weeks, I was invited to the Dhamma Vipassana Center in Kelseyville last October. The email landed in my inbox one day prior to the start of the course and I still had some last-minute hesitation about committing (putting in a last-minute vacation request, clearing my social calendar and responsibilities).
And I realized I was stressing about the decision and that the act of stressing about going into a meditation retreat sort of defeated the purpose of meditation, amiright?
What Vipassana Did for Me
According to dhamma.org, "Vipassana, which means to see things as they really are, is one of India's most ancient techniques of meditation. It was rediscovered by Gotama Buddha more than 2500 years ago and was taught by him as a universal remedy for universal ills, i.e., an Art Of Living. This non-sectarian technique aims for the total eradication of mental impurities and the resultant highest happiness of full liberation."
Researching online, I had learned that day 4 of 10 would prove to be the hardest. I also knew that I had to follow a pretty strict schedule of waking up at 4, eating my last "meal" at 5, and going to bed at 9. Finally, there was no other forms of activities to be had whether it was passing time through talking, running, doing yoga, reading, writing and most definitely using our phones.
After a quick stop at a local store and choosing a buckwheat meditation cushion over a cotton one, I packed all the comfiest clothes, layers, scarves I had. I made my drive up North from Oakland, past Santa Rosa and through the winding roads of Highway 175 into the small town of Kelseyville. A quick check in and orientation explicitly going through the expectations to stay for the full 10 days of the course and details of what to expect, we took our vows of silence and started day one.
At the end of a row of cabins, there was a large Oakwood tree of red, orange, and yellow leaves with slightly-swirled tips. Underneath it, I found my bunker and in my quarters, a piece of paper inscribed with my name next to a twin-sized bed. Next to the closet, the only other object that I suspected was my roommate's rather large structured meditation cushion. We were assigned seating in the meditation hall. Waiting for our names to be called, I started to scan all the other attendees for the kinds of meditation cushions, seats, recliners they had brought with them, noticing how unprepared I felt and to my relief, finding a shelf lined up outside the door to the hall with extra pillows and wooden meditation shelves (supporting your seat with knees bent beneath).
My roommate, I would later learn, is a first-generation Indian who had moved to the Bay area for her pre-arranged wedding from a Skype interview. She would turn 28 in a few months, believed in the art of drinking water had everything to do with health, rejected the idea of vitamins and supplements, dreamed of sustaining a vegetable farm, and loved reading "Men are from Mars, Women are from Venus". After 10 consecutive nights taking turns shutting the lights off, and having no spoken conversation, we would spend the final night chatting away after silence was broken.
The food was vegetarian, basic and unpretentious. Breakfasts always included a cinnamon-infused apple and orange stew, oatmeal, rice cakes, toast and butter (gluten-free, vegan options included!). Just as basic, my favorite tea was the Bengal Spice tea by Celestial Tea, topped with a splash of almond milk.Every meal was served with the same toppings of beets, cucumbers, tomatoes, julienned carrots, sunflower seeds, and cranberries. On day 4, as if the staff knew we would need some comfort, surprised us with what they called "Metta balls", cacao and peanut butter flavored, bite-sized dessert.
We were to stay with the confinements of the establishment, walks through the forest before and after meals. By day three, I had a routine dialed in that accorded with the preset schedule.
Most of my days looked a little like this:
4:15 am: wake up to the alarm set on my tiny casio wristwatch
4:25 am: scurry over to the meditation hall with layers of scarves and cloaks, noticing how dark and quiet it is out
4:30–6:30 am: first meditation, trying not to think so much about breakfast
6:30–7:30 am: stare at the board with our daily schedule and instructions before breakfast, eaten very, very slowly
7:30–8:00 am: crawl back into the covers of my bed, usually a little nap; sometimes abhyanga (full body oil massage) and invigorating shower to start the day
8:00–11:00 am: meditation, hopefully feeling rather ambitious about the day
11:00–12:00 pm: lunch
12:00–1:00 pm: a post-lunch walk through the woods soaking in the sun
1:00–5:00 pm: meditation on your own and in the hall, usually a combination of trying not to fall asleep and in between states of what feels like delirium, bliss and something like meditation
5:00–6:00 pm: snack of bananas, apples and my favorite Bengal Spice tea
6:00–6:30 pm: another walk, most likely a nap
6:30–7:30 pm: watch a video on daily discourse, led by S.N. Goenka at which point I am silently screaming 'Hallelujah!' for making it to the evening
7:30–9:00 pm: meditation, inspired by Goenka's teachings
9:00 pm: lights out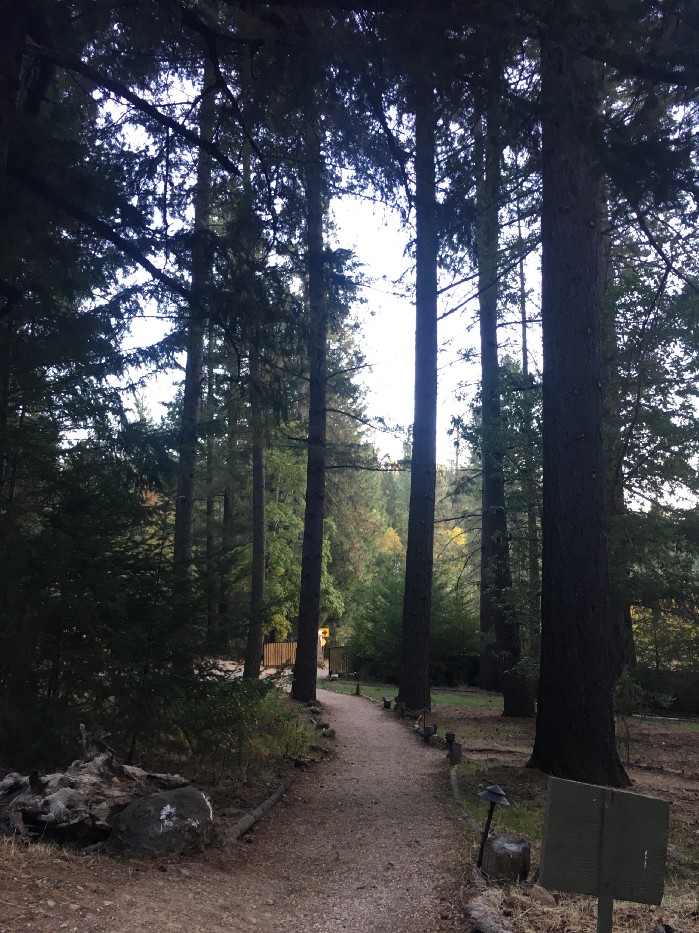 The Hardest (And Heaviest) Moment Throughout Vipassana
I experienced nightmares after a few days, and signed up for "interview" with the teacher during our break. I felt better talking to someone about the experience of what was the drama of our mind.
Afterwards, I sat in the sun crying underneath the Oakwood tree by my cabin when I saw someone out of the corner of my eye come by and drop something next to me. I saw it was a few leaves held together by the stringy net of moss.
While I recognize that I didn't need to fully intellectualize the nature of my emotions surfacing, I understood that it helped to be fully supported through the process.
I was grateful to find that back in the Easy Bay, there are daily morning/evening sittings as well as bimonthly all day sittings held for old students.
Key Takeaways from Vipassana
Our suffering can be boiled down to cravings and aversions. All shortcomings, self doubts, fears, panic attacks, anxiety, are branches of these two.
Sankara, deep-held aversions and cravings from the past, rise to the surface as karmic bodily sensations.
Our minds will always create drama and ways to make sense of incidents. Learning how to sit with and observe the sensations of the body helps us to allow our mental bodies to find more peace and harmony.
Nature teaches us that everything is in flux with every passing season.
We are bound to be aligned to ourselves when attuned the deliberate states of nature.
Being in meditation and returning to it daily (ideally, one hour in the AM and one hour in the PM) makes it easier to weed out any distracting thoughts and become more honest with ourselves.
Overall, the practice of Vipassana helps us realize the beauty of knowing that everything is there to keep showing us how to hold on a little less and trust a little more.